TCG Institute of Technology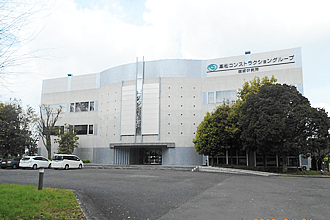 ■Address

36-1 Kaname, Tsukuba-shi,
Ibaragi 300-2622

■Total Area

Approximately 18,000㎡

■Construction Area

Approximately 3,000㎡

■Total Floor Space

Approximately 9,000㎡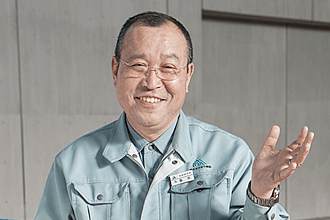 Takamatsu Institute of Technology started its operation in April 2014 as a laboratory of all Takamatsu Group Companies. However, it was previously "Institute of Technology of Asunaro Aoki Construction Co.,Ltd.", and was renamed after conducting renewal and changes. Before the start of Takamatsu Institute of Technology, each Group Company possessed technical development departments. However, our goal was to improve the technology level of all Group Companies by bringing together the unique strengths, human resources and know-hows of our Group Companies and combining it with Asunaro Aoki's laboratory which was considered to be top-notch among construction companies of our size.
Currently, we are conducting various technological developments to respond to societal and customer needs in both civil engineering and architecture fields. Especially, we are currently focusing on technologies to realize longer service life of social infrastructures, disaster prevention and environment-related technology developments.
Currently, there are 35 employees in our Institute that are originally from all Group Companies, with its core coming from Asunaro Aoki Construction Co.,Ltd. We will continue to increase the number of our colleagues as well as improve our facilities to raise the overall technological level of our Group.
Large Scale Experimental Facilities
●Reaction Force Floors & Walls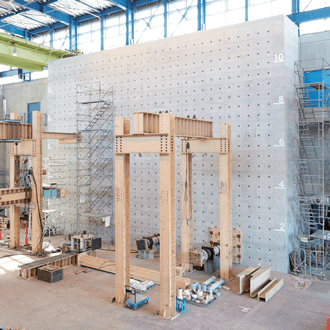 An experimental facility to inspect the performance of civil engineering and architectural structural materials in actual scale by using high power jack system.
◆Reaction Force Floor

Thickness : 1.95m
◆Reaction Force Wall

Thickness : 2.50m
Width : 17.0m
Height : 12.0m
●Precision Universal Testing Machine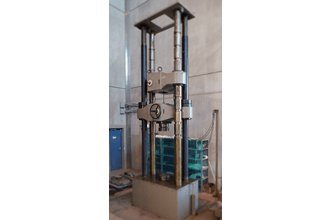 An inspection machine to measure compression, tensile and bending strengths of materials such as concrete and steel. The maximum power of 3000kN is rare and various experiments can be conducted.
●Large Capacity Actuator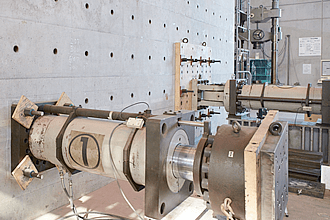 Actual scale experiments can be conducted with its 600-ton compression actuator, tensile 400-ton axial actuator and 400-ton horizontal actuator. Three large capacity actuators are installed.
●Large Scale Fatigue Testing Machine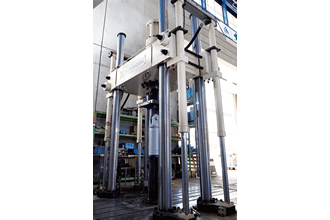 A facility to check bend-fatigue performance of structural materials (columns, beams, slabs, etc.) and dynamic performance of various dampers.
Tsukuba Dream Factory "Technical Dream Factory"
"Technical Dream Factory" was opened in the Institute to introduce how Takamatsu Corporation tackles with "safety, security and comfortableness". This is a showroom specialized in technology fields to introduce Takamatsu Corporation's research themes, structural materials, structural and anti-seismic features as well as how they compare with standard structures. It also shows the reinforcing-bar arrangement for columns of 10-story RC building, where old standard, current standard (=Building Standard Act) and Takamatsu standard of arrangements can be compared with each other.
Research Themes
●Research concerning improvement of earthquake resistance of existing bridges by friction dampers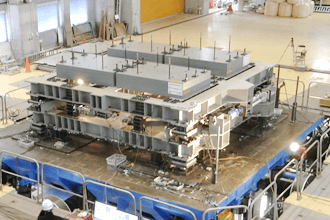 Through our anti-seismic reinforcement construction joint research between Asunaro Aoki Construction Co.,Ltd. and Metropolitan Expressway Co.,Ltd., it was found that anti-seismic performance is improved by decreasing earthquake energy towards structural materials by using friction dampers.
This technology absorbs seismic energy by applying "Die & Rod Type Friction Damper" technology, which is developed by Asunaro Aoki Construction Co.,Ltd. to manage seismic energy for buildings. By installing the friction damper between bridge pier base and the bridge girder, damage of bridge pier base can be avoided in an East Japan Earthquake scale plate-type earthquake, as well as decreasing more than 60% of damage in Hanshin-Awaji large-scale earthquake occurred directly underneath the region. In case a large scale earthquake occurs, it is often observed that the bridge pier is deformed and not recovered, ending up in slanted highway, forcing a lengthy and large scale recovery procedure. Our anti-seismic device will decrease seismic energy and reduce the burden towards bridge piers. It can also be installed to vertical direction of bridge axis as well as direction of bridge axis of the fixed bearing, where oil dampers are currently unable to be installed, and enabling the structure to be constructed as anti-fallout and anti-horizontal displacement structures.
●Research of flexible-stiff mixed structure (Folded Brace Structure)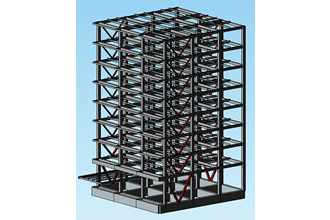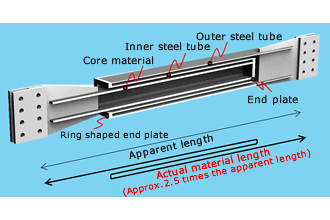 The "Folded Brace" is an earthquake-resistant brace and has superior deformation performance and can be applied to any steel frame structure. In buildings that have limitations to install braces, this "Folded Brace" can be used and realizes superior brace structure with excellent yield strength and rigidity. Approximately 20% of steels can be saved in comparison to frame structure.
●Research concerning TAS Method

Takamatsu Corporation and Asunaro Aoki Construction Co.,Ltd. are jointly researching "TAS (Takamatsu Asunaro-Aoki Support) Method" for quick form-timbering removal. In comparison to traditional or permanent methods, this method can dismantle most timbering in early stage, so that next procedure (finishing) can be started earlier. In addition, molding boxes can be dismantled within three to four days after concrete placement, leading into faster molding box re-usage, thus resulting in lower cost of molding box. By realizing TAS method with its cost merit realized through decreased extra procedures, we would like to decrease customer burden as much as possible.
●Research concerning Heat Cut Off Method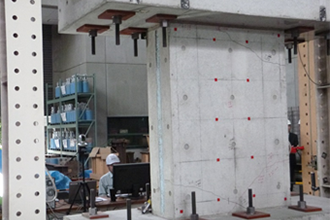 "Heat Cut Off Method", which combines anti-seismic reinforced concrete walls and heat insulating material for wall type RC building is under research. This method needs no finishing procedure towards heat insulating material and can be adopted in exposed concrete buildings. This method is also expected to contribute to shorter turnaround time due to unnecessary finishing procedure.